Archives by date
You are browsing the site archives by date.
By Ryan Vogt on February 28, 2015
At a conference on 26 February 2015, a Rogers executive called for the Canadian government to shut down VPNs. Here is Dr. Michael Geist's take on the matter. VPNs, or "virtual private networks", are a technology used to securely link two physically non-connected networks, and make it is as though the two were one seamless network […]
By Ryan Vogt on February 26, 2015
Just in case Jon forgets to put this little story in News of the Week for next week 😉 FCC votes for net neutrality, a ban on paid fast lanes, and Title II Cheers!
By aminglum on February 26, 2015
Next week, I hope to lead the class through a discussion comparing the differences (if any) between creativity and innovation and how these two terms are applied with reference to computer software and biotechnology. If you have an opportunity, please skim through: Dennis S Karjala, "Protecting Innovation in Computer Software, Biotechnology, and Nanotechnology" (2011) 16 […]
By Alex B on February 26, 2015
For those of you who haven't heard of This Week in Law, its a really interesting american legal podcast about technology. This episode seemed particularly relevant to our discussions of UGC, and legal restrictions on it. http://twit.tv/show/this-week-in-law/288
By amjadkdr on February 26, 2015
http://www.wired.com/2015/02/an-open-conversation-for-facebook-friends/ This article encapsulates a lot of the themes I raised during my presentation on privacy – particularly in the sense of shifting our understanding of tech giants, from mere service/efficiency providers to something more. The author suggests that 'something more' is to view these tech giants as Data States. And I think this quote relates that […]
By Kyle Thompson on February 25, 2015
Some of you may have seen the "grimdark" Power Rangers fan film that has been circulating around the internet lately. It was produced by Adi Shankar, who has produced similar fan films involving copyrighted characters like Venom or The Punisher in the past. The underlying legal justification for doing so is fair use, but as […]
By amjadkdr on February 24, 2015
"Many people I've talked to say that they're careful about what they type into search engines because they know that it's being recorded. And that limits the boundaries of their intellectual exploration" – Edward Snowden. The quote above is from Citizenfour, an Oscar-winning documentary that was finally released on iTunes today. I can't recommend it […]
By Yue Fei on February 24, 2015
In class today Jon mentioned one study showing that people now trust their own judgment (online search engine) more than traditional media. I came across with two articles with different views on violation of privacy by the government. We can exercise our own judgment and see which one we agree with more. In the first […]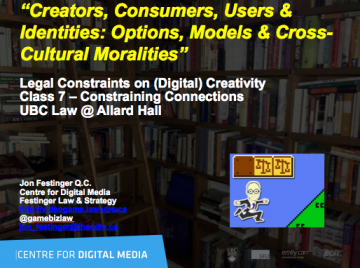 By Ryan Vogt on February 23, 2015
In under a year, two horrible incidents (that I can recall) involving SSL/TLS have made the news (I'll place a link to the older one in the comments). As a cryptography nerd, that makes me happy. SSL/TLS is a protocol that protects online communication. It ensures that your communications are encrypted end-to-end (e.g., only you and […]