Archives by date
You are browsing the site archives by date.
By zenracer on April 28, 2015
1. Op-ed: What if MLK's "Letter from Birmingham Jail" had been on Facebook?: Under current Alabama law, it would have been a crime. Other states feel similar. 2. Copyright For Sale: How the Sony Documents Illustrate the Link Between the MPAA and Political Donations (Michael Geist) + As Sony Continues Threatening Reporters, NY Times Reporter Wins Pulitzer For […]
By Michael Jud on April 25, 2015
There has been a very interesting and controversial development in the world of video games: Valve's Paid 'Skyrim' Mods Are A Legal, Ethical And Creative Disaster To put it briefly, we seem to be witnessing the first major push to turn freely available video game mods into a commodity, and into a revenue stream for […]
By liris on April 24, 2015
Saw this in the news and thought you guys might enjoy it, if anyone is in need a bit of a laugh/study break today. "Report finds that Canadians top the world in smiling poop emoji use: Canadian emoji users found to be twice as raunchy and violent as the rest of the world" "The report's "findings […]
By tbud on April 22, 2015
The federal budget, in a section entitled "celebrating our heritage," proposes to make some changes to the Copyright Act by extending the copyright term to sound recordings and performances for an additional 20 years. Many fear that these changes will undo the 2012 legislative amendments and restrict artistic freedom. Some have been quick to point […]

By zenracer on April 22, 2015
1. Photos secretly taken of family through window are art, not invasion of privacy: court 2. Court Adds Much-Needed Element Of Malice To Nova Scotia's Terrible Cyberbullying Law   3. EFF Successfully Challenges Key Claims in "Podcasting Patent" 4. Russia's Internet censor reminds citizens that some memes are illegal 5. Apple and the Self-Surveillance State (Paul Krugman) jon
By amjadkdr on April 21, 2015
I recently came across a new series on Netflix, "Halt and Catch Fire." Seems to consider a lot of the themes we spoke about during our class.
By Ryan Vogt on April 16, 2015
A few nights ago, I saw a friend of mine from Utah, USA, whom I know from a previous video game charity event (Darkwing_Duck_SDA on Twitter), playing a randomized version of The Legend of Zelda. For those of you who haven't played the original Zelda for NES (I hope I'm not aging myself too badly as the resident […]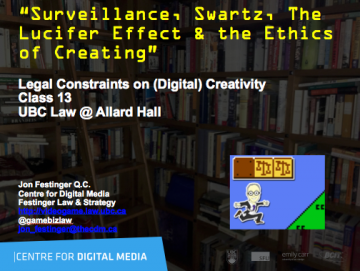 By zenracer on April 14, 2015
Our last set of slides for the semester.  So many of they that they had to be split in half (even after using PowerPoint's compression utility). So the first deck is on surveillance. The second is a stand-alone final review of the course memes. jon
By zenracer on April 14, 2015
1. The cost of silence: mass surveillance & self-censorship 2.  DDoS attacks that crippled GitHub linked to Great Firewall of China: Whitehat hacker's traceroute wizzardry pinpoints origin of denial-of-service code. 3. The Internet of Kafkaesque Things (Jay Stanley) 4. How the DMCA's Online Copyright Safe Harbor Failed (Eric Goldman) 5. Taking Down Bigots With Their Own Weapons Is Sweet, […]
By Ryan Vogt on April 13, 2015
The first four episodes of Season 5 of Game of Thrones were leaked early online.  Interestingly, Time Warner CEO Jeff Bewkes has stated: "Our experience is [piracy] leads to more penetration, more paying subs, more health for HBO, less reliance on having to do paid advertising… If you go around the world, I think you're right, Game […]