Archives by date
You are browsing the site archives by date.
By Ryan Vogt on April 12, 2015
There was an article in the Globe and Mail earlier this week about online shaming, including a discussion of sadism as an inherent character trail. I thought it tied in well to some of our discussions in class; plus, it's an interesting read as a study break 🙂 Cheers!
By Alex B on April 7, 2015
Great interview with Elena Iosef by Amanda Lang about copyright and gameplay: http://www.cbc.ca/news/technology/youtube-gaming-stars-blindsided-by-nintendo-s-ad-revenue-grab-1.3010550
By Ryan Vogt on April 7, 2015
Here is the John Oliver interview with Edward Snowden that was mentioned in class today. Hilarious, sad, and insightful — all in one.
By zenracer on April 5, 2015
Amanda has asked me to post the following  readings for Tuesday. Please be forewarned that the second link is graphic in text and video. The irony of this warning given the context of the course will of course not be lost on anyone…. Why hasn't Japan banned child-porn comics? http://www.bbc.com/news/magazine-30698640 The 10 Most Disturbing Scenes […]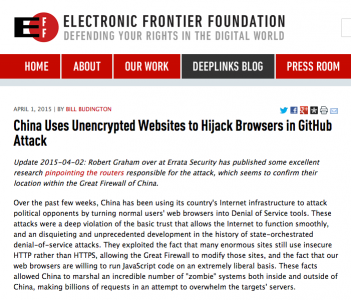 By zenracer on April 5, 2015
1. China Uses Unencrypted Websites to Hijack Browsers in GitHub Attack 2. Ellen Pao's Statement On Losing The Kleiner Perkins Case: "The Battle Was Worth It" 3. How C-51 undermines privacy (Lisa M. Austin, Benjamin J. Goold, Avner Levin and Andrea Slane)   4. Facebook tracks logged-out users in 'violation' of EU law, study says 5. Bell censorship: the status quo […]
By zenracer on April 2, 2015
At the end of the Week 12 slides I briefly did a recap of some slides from a keynote presentation I gave to the Law Society of Upper Canada's Media & Communications Law Conference in 2011. Those slides touch on the theme of how to nurture the freedoms that result in creativity with a desire […]