Archives by date
You are browsing the site archives by date.
By Alex B on January 31, 2015
For the class presentation on Tuesday, we will be examining the philosophical underpinnings of IP law, and their relation to creativity and creation. The brief assigned reading below is a brief introduction to the 3 brief common philosophical justifications for IP. Did I mention the reading is brief. I will be referring to the other […]
By Ryan Vogt on January 30, 2015
There was a great article published today in Science about mathematicians, where their funding comes from, and how it affects the research they do (and I'll unabashedly say that I think mathematics is one of the most beautiful forms of creativity in the world 🙂 ). This article also serves as an interesting follow-up to my earlier […]
By Michael Jud on January 30, 2015
I was recently thinking over an article that appeared in News of the Week some time back, one dealing with the phenomenon of homelessness in the recently released video game Sim City. (In case anyone missed it, it's available here.) As it turns out, many of the player-crafted cities within the game have been suffering […]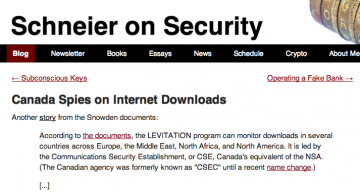 By Ryan Vogt on January 29, 2015
We've been hearing for a long time about NSA surveillance online. Turns out, our own CSE was at it as well. Not so much a constraint on online creativity, but certainly the monitoring of online creativity. Cheers!
By tbud on January 28, 2015
Tom Petty receives writing credit on Sam Smith hit Stay With Me This recent article in the Globe and Mail reminded me of our class discussion on stand-up comedians and the lack of protection for their jokes, and the problems that may arise from trying to create legal protections. I see somewhat of a parallel […]
By Ryan Vogt on January 28, 2015
I saw some raised eyebrows last week when I said that I could tell, in the Google v Oracle case, that two different programmers had touched the nine lines of code in question (one had written most, and another had come in to fix a minor bug), despite this never being (as far as I can […]
By Ryan Vogt on January 28, 2015
A very interesting short piece about the recent surge in open-access journals. As a bit of background about the "traditional" and "open" manners of publishing scientific papers: In the traditional form, authors have their work reviewed; if accepted, it is published for free (or some relatively nominal charge to the author). There are often ads in journals […]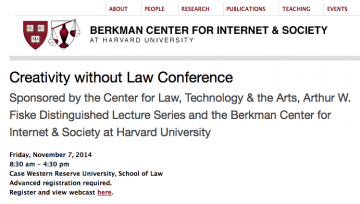 By amjadkdr on January 27, 2015
This is a webcast of a conference that took place this past November entitled "Creativity Without Law", co-sponsored by the Harvard Berkman Center: The event will focus on the growing body of scholarship examining the on-the-ground practices of creators and innovators. That scholarship challenges intellectual property orthodoxy by suggesting that incentives for creative production often exist […]
By Ryan Vogt on January 27, 2015
Today in class, we talked briefly about artificial intelligence (AI) and what it means for creativity. I thought this article that I saw yesterday comparing the smartness and creativity of humans and AIs (and, more importantly, the author's vision of where AI is headed) would be a cool (if lengthy) read. http://waitbutwhy.com/2015/01/artificial-intelligence-revolution-1.html Cheers!

By zenracer on January 25, 2015
Here is another piece that glorifies constraints – this time in an entrepreneurial rather than creative context. In doing so it arguably provides a clue as to what lies behind this S&M like lust for handcuffs. Read closely and you may see that it comes down to ego and the illusion of being special. In […]