Archives by date
You are browsing the site archives by date.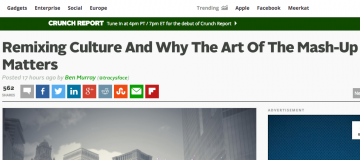 By zenracer on March 23, 2015
The title tells all about the relevance to the course. A thoughtful piece worth the read: Remixing Culture And Why The Art Of The Mash-Up Matters | TechCrunch. jon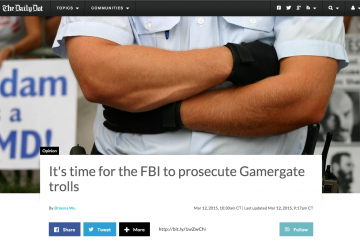 By zenracer on March 21, 2015
1. It's time for the FBI to prosecute Gamergate trolls (Brianna Wu)   2. Twitter puts trillions of tweets up for sale to data miners: Company plans to make content generated by users available to commerce, academia and even police involved in crowd control 3. We can't accept Internet surveillance as the new normal 4. No copyright and trade-mark […]
By tbud on March 20, 2015
Here is a New York Times book review of 'Data and Goliath'. I pulled a relevant quote from the article: "In the corporate realm, Mr. Schneier promotes no less than a fundamental reshaping of the media and technology landscape. Companies with access to large amounts of personal data would be "automatically classified as fiduciaries" and […]
By aowais on March 20, 2015
The following article describes Microsoft's announcement that everyone will get a free upgrade to Windows 10, including users with pirated licences. However, upgrades from pirated licences will be deemed "non-genuine". Although it is not clear what the implications of having a non-genuine license may be, industry experts note that there is greater risk of malware, […]
By aowais on March 20, 2015
Interesting video on the culture of humiliation in case anyone is considering a topic on public shaming, and perhaps would like to link it to how online public shaming, as extra-legal norms, might inhibit creativity.
By Ryan Vogt on March 17, 2015
Cool little animation from Jorge Cham, interviewing Irene Ng and David Reynolds from Hub of All Things: http://phdcomics.com/comics/archive.php?comicid=1788 Cheers!
By lowlevin on March 16, 2015
Hi everyone. Tomorrow, I'll be doing a presentation on self-censorship as a result of both legal and extra-legal constraints, and its impact on creativity. Here's a short blog post to get things started: http://www.washingtonpost.com/blogs/monkey-cage/wp/2015/01/16/charlie-hebdo-meets-the-interview/ Levin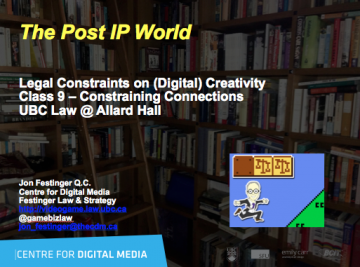 By zenracer on March 15, 2015
Here are the slides from Class 9. jon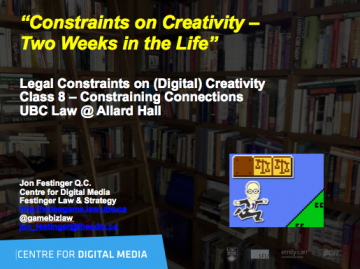 By zenracer on March 15, 2015
A bit belatedly, here are the slides from our Class 8 contextual survey. jon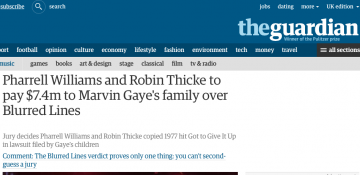 By zenracer on March 14, 2015
1. Pharrell Williams and Robin Thicke to pay $7.4m to Marvin Gaye's family over Blurred Lines: Jury decides Pharrell Williams and Robin Thicke copied 1977 hit Got to Give It Up in lawsuit filed by Gaye's children   2. Raising the Broadcast White Flag: What Lies Behind Bell's Radical Plan to Raise TV Fees, Block Content, Violate […]