Archives by date
You are browsing the site archives by date.
By Ryan Vogt on April 16, 2015
A few nights ago, I saw a friend of mine from Utah, USA, whom I know from a previous video game charity event (Darkwing_Duck_SDA on Twitter), playing a randomized version of The Legend of Zelda. For those of you who haven't played the original Zelda for NES (I hope I'm not aging myself too badly as the resident […]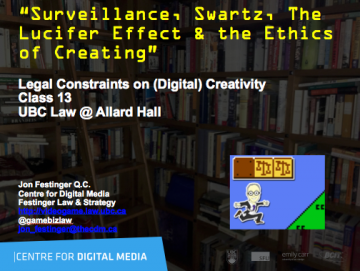 By Jon Festinger on April 14, 2015
Our last set of slides for the semester.  So many of they that they had to be split in half (even after using PowerPoint's compression utility). So the first deck is on surveillance. The second is a stand-alone final review of the course memes. jon
By Jon Festinger on April 14, 2015
1. The cost of silence: mass surveillance & self-censorship 2.  DDoS attacks that crippled GitHub linked to Great Firewall of China: Whitehat hacker's traceroute wizzardry pinpoints origin of denial-of-service code. 3. The Internet of Kafkaesque Things (Jay Stanley) 4. How the DMCA's Online Copyright Safe Harbor Failed (Eric Goldman) 5. Taking Down Bigots With Their Own Weapons Is Sweet, […]
By Ryan Vogt on April 13, 2015
The first four episodes of Season 5 of Game of Thrones were leaked early online.  Interestingly, Time Warner CEO Jeff Bewkes has stated: "Our experience is [piracy] leads to more penetration, more paying subs, more health for HBO, less reliance on having to do paid advertising… If you go around the world, I think you're right, Game […]
By Ryan Vogt on April 12, 2015
There was an article in the Globe and Mail earlier this week about online shaming, including a discussion of sadism as an inherent character trail. I thought it tied in well to some of our discussions in class; plus, it's an interesting read as a study break 🙂 Cheers!
By Alex B on April 7, 2015
Great interview with Elena Iosef by Amanda Lang about copyright and gameplay: http://www.cbc.ca/news/technology/youtube-gaming-stars-blindsided-by-nintendo-s-ad-revenue-grab-1.3010550
By Ryan Vogt on April 7, 2015
Here is the John Oliver interview with Edward Snowden that was mentioned in class today. Hilarious, sad, and insightful — all in one.
By Jon Festinger on April 5, 2015
Amanda has asked me to post the following  readings for Tuesday. Please be forewarned that the second link is graphic in text and video. The irony of this warning given the context of the course will of course not be lost on anyone…. Why hasn't Japan banned child-porn comics? http://www.bbc.com/news/magazine-30698640 The 10 Most Disturbing Scenes […]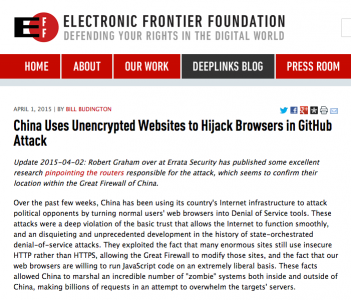 By Jon Festinger on April 5, 2015
1. China Uses Unencrypted Websites to Hijack Browsers in GitHub Attack 2. Ellen Pao's Statement On Losing The Kleiner Perkins Case: "The Battle Was Worth It" 3. How C-51 undermines privacy (Lisa M. Austin, Benjamin J. Goold, Avner Levin and Andrea Slane)   4. Facebook tracks logged-out users in 'violation' of EU law, study says 5. Bell censorship: the status quo […]
By Jon Festinger on April 2, 2015
At the end of the Week 12 slides I briefly did a recap of some slides from a keynote presentation I gave to the Law Society of Upper Canada's Media & Communications Law Conference in 2011. Those slides touch on the theme of how to nurture the freedoms that result in creativity with a desire […]